Categories: Design, VR Design & Development, Photography
Tools utilized: Unity 3D, Three.js, Adobe Illustrator, Adobe Photoshop, 3D sculpting and rendering programs
Title Held: (Consulting) Director of Innovation & Technology; Consulting Art Director to Nicopanda
Codenamed "Pandatomo", I spent eight months developing an advanced creativity app for Nicopanda.
In the final iteration, users take a photo and then place/scale 2D stickers and 3D emoji, with a third option to draw on the screen. Users are given a set list of stickers and emoji to choose from, but dragging the correct combinations together yields new emoji, focusing on combining the panda with the various icons. There are three tiers of emoji and stickers available.
After customizing their scene, users can then save and send either an image or a recorded video of the objects floating around or after dragging one object.
Sound effects would play for certain interactions, along with the option to record your voice during video recording. Each sound effect was custom made within the Unity engine.
The app is only for iOS and is currently unavailable until further notice.
Below are some of the screenshots from the App Store listing.
Having completed three experiences for the GearVR, I wanted to make something a little more open to the public. Something anyone could play with on both mobile and desktop. The big issue? I didn't really know Three.js and WebGL that well. In comes the "NICOPANDA SS16 BALLET EXPERIENCE". (Click here to view in your browser.)
The solution I found? Make everything in Unity 3D, export it to Three.js as JSON objects and compile everything in the final Three.js scene. If it sounds easy, then you probably haven't had the pleasure of developing for Three.js as a young developer.
I built the various objects based off of a feeling of escapism and the ballet and punk references imbued within the collection. (Actually housing distorted dancers within and around the inner sanctum.) Unfortunately, it proved to be too far off brand to survive a following social media cleanse, but it will certainly serve as the base for future experimental projects for Nicopanda as we continue our plunge into interactive media.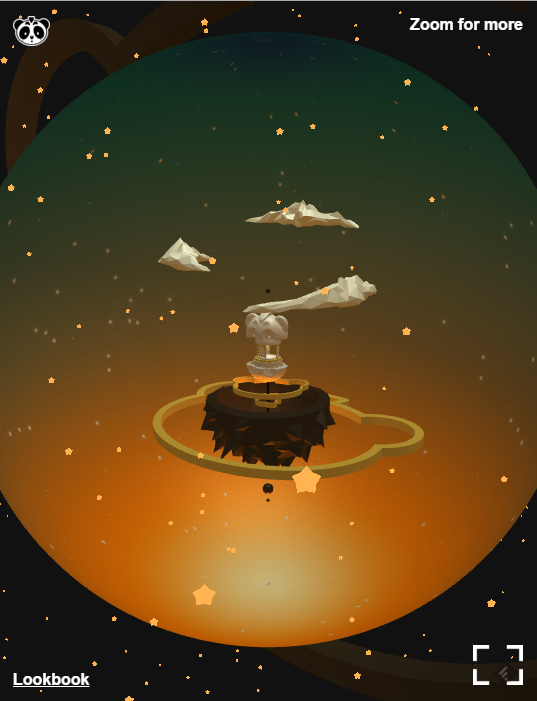 VIRTUAL REALITY EXPERIENCES for the HOLIDAYS
Before I even stepped foot into 50 White St., I was tasked with researching the practicality of Google Cardboard. I was more than happy to oblige.
Focusing on the sister brand, Nicopanda, I would design and develop an interactive scene to demonstrate the various capabilities of a Cardboard-ready Android app. It was colorful, was just the right amount of interactive and was more colorful than a rainbow.
With the proof of concept firmly on my phone—and after completing another build for a prospective client—I was tasked with exploring the capabilities of VR technology further. We ultimately decided to show off three unique experiences at the Two Hustler holiday party, and I would rework Nicopanda VR, create a holiday scene and collaborate with the previous Two Hustlers Arts Grant winner for the final experience. (Luckily, the winner was easy to work with as we both claim the same mother.)
Naturally, I found myself translating these experiences from Google Cardboard to Samsung's GearVR, meaning increased capabilities. Even so, I decided to keep features simple:
1. NICOPANDA VR
The player would look around the imagined landscape littered with brand imagery and panda heads gently raining from the sky. Although I didn't want to gamify the experience too much, players could tap the control pad to toss colored balls that would pop the panda heads, lest the landscape become overwhelmed. (We discovered the panda heads continued spawning even when the GearVR was on standby. I'll let you imagine the effervescent horror.)
DOWNLOAD:
NICOPANDA LAND for Desktop (coming soon)
2. WINTERLAND
Players would ski across the landscape by taping the pad, using the swipe function to pick up presents and fling them about the land. If they got too far from the tree, the presents would suddenly remember gravity still exists and plop to the ground until brought back. (It was a big success at the party.)
DOWNLOAD:
WINTERLAND for Desktop (coming soon)
3. ESCAPE!
A quite extraordinary experience thanks to my brother Sam's meshes, players would control a giant hand with their heads, attempting to pop a field of clouds in front of them by tossing a homunculus into them. If left to fall, the figure would reappear above the player to allow another go at it.
A secret room behind the user, should they choose to look around, led to another land of drifting giants and enigmatic music, letting the viewer to consider the two worlds they are trapped between.
As a proposal for an innovative shopping experience, I crafted a VR experience for Target, highlighting four potential themes for players to explore. The Playhouse, Christmas Land and Outdoor Land were accessible via gaze-enabled doorways in the Main Atrium. After the introduction, players virtually fall into the Main Atrium after opening the experience.
Using the same gaze interaction capabilities, players would be able to link to various products available in the three rooms. The idea was to present three different methods of engagement:
Playhouse: Allowed players to reposition/ throw objects and generally play in a Target-themed room
Christmas Land: Similar focus on play, with presents and ornaments able to be thrown about in a winter wonderland.
Outdoor Land: Focused on atmosphere and the escapist capabilities of virtual reality, utilizing the dreamy imagery of a valley forest during sunset.
MARKETING
Being on the creative team, I had been tasked to help build primary content to help build the brand. The imagery I find that works best with Two Hustler's aesthetic has been mainly jarring and eclectic, often utilizing my personal method of enjambment from traditional to digital language.
Here is a small collection of the social media and general marketing imagery I've created. If you want a big page of crazy images, head over to the dedicated page for Nicopanda.